Philosophers have always disagreed about what is the telos, the ultimate end or aim that we should pursue. The ancient Epicurean friends believed that pleasure is a broad and varied enough category for telos that it is flexible, and also that we have a pleasure-aversion faculty which helps us in our choices and avoidances. The following online dialogue on meaning versus pleasure took place in the Epicurean Philosophy Group.
Hiram. The Ancient Wisdom Project was brought to my attention by someone studying Epicurus. In there, I found this assessment of the life of pleasure where it is argued that a life of pleasure does not give MEANING, and that meaning is a component of human happiness separate from pleasure and happiness and (presumably) essential. Here is another AWP article on the problem.
I'm finding that one of the toughest things about Epicureanism is that it doesn't seem to offer any solution to what I believe is my fundamental problem: a lack of meaning in my day-to-day life.
Any thoughts?
Cassius. Seems to me this is largely a subset of the "virtue vs pleasure" argument, here being stated in terms of a life being "meaningful" rather than good or virtuous. It is a HUGE point that we find only pleasure to be desirable in and of itself, but people just wont' let go of the idea that they can rationalize some higher goal.
The challenge to Epicurean philosophy doesn't have to be stated purely in terms of religion (like pleasing God for Christians/Jews/Muslims) or in terms of "helping others" like the more secular crowd likes to recast it (apparently this page is in that category). Anytime we see the argument that there is some "higher" calling or good above "pleasure" (in the wide definition that Epicurus gave it which includes mental and not just fleshly) then we're confronting the same obstinate problem. Yes it's indoctrinated in almost everyone alive at this point, but that doesn't make it any more correct. It's sad, pitiful, and disgusting (because it is an intentional rebellion against Nature) all at the same time.
And here's the point which makes the explanation so difficult for those taken in by the mainstream evaluation of Epicurus: "Those things are good, and my experiment to date has shown that embracing elements of an Epicurean lifestyle can increase happiness (or rather, decrease unhappiness). But when I think about the natural end result of this lifestyle (a sort of minimalist retirement), I can't help but think there really is no point to it. Living a pleasurable life, achieving ataraxia, seems appealing on the surface, but unsustainable as a lifetime pursuit."
As long as "a sort of minimalist retirement" is seen as an accurate summary of Epicurean philosophy, then this problem is never going to be overcome. Leave "minimalist retirement" to the Stoics to whom it truly belongs.
And no, this is no Western thought – "Western thought seems to say "the world can be a cruel place and you should make it less cruel via good works and this will give your life meaning." That's not "Western" thought – it's pure religious / secular-Platonic idealism that Epicurus clearly rejected. Yes that may be the majority in the West now, but it doesn't represent Epicurean philosophy.
Jason. There is so much resistance to the idea of pleasure as the telos. "There has to be something more!" is the refrain I keep hearing over and over again. Selflessness seems to be the stand-in people claim to prefer, but when pointing out that there's no such thing, they usually double-down or angrily storm off.
Cassius. One more quote from the second article to show this guy's attitude: "I find the goal of becoming close to God far more attractive than living simply for pleasure." For an Epicurean who knows his physics about the nature of the universe (uncreated, nonsupernatural) and the nature of true divinity (has no needs and neither grants favors or punishes error) that's just absurd:
"Man can't live by pleasure alone.

Spiritual disorder cannot be resolved— or joy worthy of the name produced— by wealth however great, by popular acclaim and respect, or by anything that causes unrestrained desire. – Epicurus

Still, I think there's a reason pleasure is only a temporary antidote for cynicism, and that is that living for pleasure alone is not particularly meaningful.

Yes, it's good to read great books and hang out with friends and eat brunch and take long walks, but there doesn't seem be a point to it.

I suppose that is the philosophical difference between say the Epicurean, hedonistic philosophy and an Abrahamic religion. Hedonism says pleasure is good for its own sake. Christianity says life and pleasure should be used as a means to become closer to God.

While I'm still not certain about the God thing, I find the goal of becoming close to God far more attractive than living simply for pleasure.
Hiram. So he would rather set "becoming close to God" as the goal, even as he admits that he's not sure that god exists? Is that coherent? Isn't that what brought Mother Theresa to the most sublime heights of misery all her life?
Cassius. And to comment on Hiram Crespo's phrasing of the original question: "…...that meaning is a component of human happiness separate from pleasure and happiness and (presumably) essential." That's the writer's real problem. He is asserting that "meaning" exists separately from pleasure, which is the same error as alleging that "virtue" exists separately from pleasure. In truth, pleasure (and pain) are the only fundamental guides given by nature – the only ones that really exist as part of our fundamental makeup. Abstractions are great, but they cannot replace or supercede the ultimate guidance that lets us know what to choose and what to avoid. And replacing pleasure and pain with abstractions is exactly what these guys are trying to do. They are not willing to use abstractions as a tool for maximizing pleasure and minimizing pain, which is the natural scenario – they want to REPLACE pleasure and pain with abstractions of their own making.
Maybe as important as any other aspect of this discussion is that "living in accord with the guidance of Nature" in the Epicurean framework (rather than in the false framework of "living in accord with reason" as suggested by the Stoics / Platonists / etc) ought to be considered MORE meaningful than any of these false abstractions. As I quoted the website above, the writer finds it more satisfying to "become close to god!" Not only is this absurd, but because it is absurd, it is offensive to assert that we can't value and defend Nature (our true "mother" and "father" too) every bit as intensely as any fake religion ever valued its icon or its false abstraction. Lucretius gives us an example of how "true religion" and "true reason" can be channeled into intensity of feeling that matches or exceeds any mundane religion. The fact that there are few people who can replicate that today is not an indictment of Epicurean philosophy, it's an indictment of the amount of poison that's in the human bloodstream after 2000 years of false religion and rationalistic idealism.
Alexander. Without reading any of the links or comments yet… and because I have heard this argument so many times and parsed it already… I am pretty sure that by "meaning" folks mean the sum of two things:
1. "Legacy", of which Epicurus talks about too, and he left "provisions" for the younger generations of Epicureans.
"While we are on the road, we must try to make what is before us better than what is past; when we come to the road's end, we feel a smooth contentment."

"At one and the same time we must philosophize, laugh, and manage our household and other business, while never ceasing to proclaim the words of true philosophy"

"Most beautiful is the sight of those close to us, when our original contact makes us of one mind or produces a great incitement to this end."

"We show our feeling for our friends' suffering, not with laments, but with thoughtful concern."

"That we have suffered certain bodily pains aids us in preventing others like them."
2. Not choosing every pleasure, but sometimes choosing what appears to be a pain … just as Epicurus explained in his letter to Menoeceus.
"But although happiness is the first and a natural good, for this same reason we do not choose every pleasure whatsoever, but at many times we pass over certain pleasures when difficulty is likely to ensue from choosing them. Likewise, we think that certain pains are better than some pleasures, when a greater pleasure will follow them, even if we first endure pain for time."
A temporary postponement of immediate/illusory gratification in order to gain a longer term and greater gratification, and to avoid troubles that come with the consequences of the illusory gratification, and secure what brings peace and security.
"…but it does not follow that every pleasure is worthy of being chosen, just as every pain is an evil, and yet every pain must not be avoided. Nature requires that we resolve all these matters by measuring and reasoning whether the ultimate result is suitable or unsuitable to bringing about a happy life; for at times we may determine that what appears to be good is in fact an evil, and at other times we may determine that what appears to be evil is in fact a good."
Often the type of trouble to be avoided is that which our __neighbor__ might complain to us about in addition to the usual ones. Epicurus speaks to our neighborly/friendly relationships too.
Hiram. Legacy: that is one key to replying to this argument, which is why in my book I focus so heavily on the idea of passing on our wisdom tradition, and why Norman Dewitt talked about "each one teach one" and our commitment to the teaching mission of the Gardens.
Alexander. Also the legacy of Diogenes of Oenoanda comes to mind. A public inscription on a stone wall through which anyone can use to better their lives. Even those not members of a Garden.
Hiram. And yet we have talked before about how Epicurean philosophy deserves to grow more than it has. I think another way to see this is as a challenge. To ask and attempt to answer in what ways does this philosophy help us to fashion meaning for our lives? Because that is what many people are looking for, and here is one atheist who sincerely delved into the study of Epicurus for a period of his life and came out unsatisfied, and here says why. This is an opportunity to reply.
Cassius. I remember a discussion in our group a long time ago when I cited the following from Diogenes of Oinoanda:
Fr. 5 [Others do not] explicitly [stigmatise] natural science as unnecessary, being ashamed to acknowledge [this], but use another means of discarding it. For, when they assert that things are inapprehensible, what else are they saying than that there is no need for us to pursue natural science? After all, who will choose to seek what he can never find?"
The point that is relevant here is "After all, who will choose to seek what he can never find?" People from a religious or Platonic orientation are insisting on seeking something that can never be found. They are living a fantasy and have decided that that fantasy is more important to them than dealing with the reality, that that fantasy does not exist. Epicurean philosophy can't change the facts of reality and provide them something that does not exist. But I think what it can do is what I referenced above with Lucretius: it can point them in the direction of seeing that the truth is more important than any fantasy, and that they should (like Lucretius did) start using their talent at dreaming to start investing in the satisfaction that can come from cooperating with nature rather than rebelling against it.
Hiram. One of my readers recently emailed me, saying:
What does Epicurus mean by "I recommend constant study of Nature"?
To which I replied:
If you read the Epistle to Herodotus, Principal Doctrines 10-13, and Polystratus' On Irrational Contempt, you will learn that protecting our minds from the culture's supernatural insinuations requires a clear understanding of the nature of things and (in Polystratus specially) that if we do not balance the pursuit of virtue with the study of nature (science), that we fall into superstition and arrogance and many other problems. This is the main issue with religion today, but it was also in antiquity, which is why a SCIENCE of contemplation, and a scientific and transcultural spirituality and morality, is still so necessary. It's very unfortunate that Sam Harris is dedicated to this ideal, yet he has no knowledge of Epicurus and Polystratus and the work they've done in this regard.

As I've gained depth in understanding Epicurus over the years, it's become clear that he saw himself as coming to this world with the mission of reconciling us with nature, particularly after we fell into the error of Platonism, which Michel Onfray has called "the great neurosis at the heart of Western civilization". Our tradition is meant to supplant religion, in part, by giving people a scientific alternative based on the study of nature. And the authority of the canon (and of our faculties) is REALLY the authority of nature, which is the same as reality. In many important ways, nature has replaced God in our tradition–it is our source of meaning, our ultimate reality, our ultimate authority, and we must seek alignment with her. I hope this helps to clarify your question.
Cassius. For example this is a similar thought of how we should approach Nature with as much awe as any "god":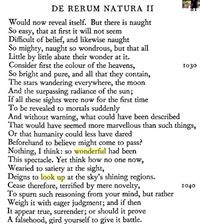 Hiram. One way in which nature has come to replace God in our tradition can be seen in this fragment:
Praise be to blessed Nature: she has made what is necessary easy to get, and what is not easy to get unnecessary.
This is the idea that deserves further attention: how Epicurus saw it as his mission to reconcile us with Nature after Plato had done his harm. We are called to have a relationship with nature (reality) rather than God. Can this be a source of awe and meaning and spirituality? I think it is.
Cassius. Yes Hiram I think that is the direction. DeWitt comments on this as well, but seems to downplay it for reasons I never understood. I think DeWitt's observation sells them short and that the Epicureans DID see this same point: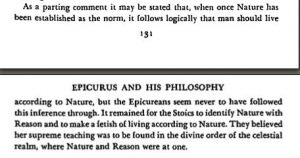 Stephen. I understand the author's feelings. But they ignore Epicurus' views on friendship. Meaning for most people is found in relationships with others. Pleasure isn't just eating and drinking. It can be conversation, art and doing philanthropy.
Ilkka. This is one of those False Dichotomies that people (i.e. me…) tend to point out… and be snooty about to your face. 🙂
In a contest of "pleasure vs. meaning", pleasure wins with a submission. ALL of the things that are meaningful to you are pleasurable. Go on! Check if you like. We'll wait…
In all of these nonsensical dichotomies, it's always the case that people have been taught that suffering is good, and that there HAS to be something wrong with pleasure. Mostly I blame religion for this abuse…
For example, I do a lot of things for the Red Cross (a lot.). It gives me meaning in my life… a lot of meaning. And this is because it gives me a lot of pleasure (though it's also painful and anxious at times).
You cannot simply walk into meaning. It is guarded by more than gods. There is pleasure there that never sleeps. It is folly to argue against it. 😉
Further Reading:
Blog About the Search for Meaning – Based on this Dialogue
Science, Meaning & Spirituality: Towards a new Epicurean 'Moral Psychology' – Mark Walker, Buckinghamshire New University
The Pleasure and Aversion Faculty