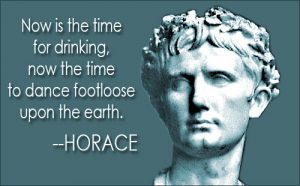 The poet Horace (First Century BCE) was the son of a freed Roman slave. His father gave him a good education, which included philosophy, and Horace was outspoken in his Epicurean faith. He served in the Roman army under General Brutus and enjoyed the friendship of the poet Virgil and of Maecenas–a wealthy investor in the arts whose name later became synonymous with the tradition of patronizing intellectuals and artists. Although his full name was Quintus Horatius Flaccus (modern-day Spanish uses "flaco" to mean "skinny"), he was ironically and famously short and fat.
Treat every day that dawns for you as the last.
The hour that's unhoped for will be welcome when it comes.
When you want to smile then visit me: sleek, and fat I'm a hog,
well cared-for, one of Epicurus' herd.
Some of the Latin adages coined by Horace are still known and used today. The most famous one was the very Epicurean Carpe Diem, or "Seize the day". Other adages are Nunc est bibendum, "Now we must drink", and Sapere aude, or "Dare to be wise".
In reality, Horace was more than a poet. He wrote the epistolary style of literature, as well as satires–many of which are for adults only–which praised Epicurean ideals, and his Ars Poetica is about more than the art and theory of poetry. It includes advise on writing and presenting plays–things like making sure that the emotions, gestures, and words displayed match and are presented in unison. The work was written in the style of an Epistle to the Pisos–the same family that financed the famous Epicurean Library and was taught philosophy by Philodemus in Herculaneum.
This rare constellation of famous names associated with Horace, together with the fact that many (including Maecenas) were believed to be Epicureans by conviction, indicates that here is a moment in history where we can get a unique glimpse into the imprint that our tradition has left, and where we can also juxtapose the ways in which the works and biographies of these personalities may have been informed by Epicurean ideas–as is the case with the time spent by Frances Wright and Thomas Jefferson in Monticello.
In his satires, Horace draws anecdotes from nature. While describing the hard-working tiny ant that "takes in its mouth whatever it can and adds it to the pile" in order to have food in a future season, he also praises the Epicurean virtue of contentment and self-sufficiency.
As if you had occasion for no more than a pitcher or glass of water, and should say, "I had rather draw [so much] from a great river, than the very same quantity from this little fountain." Hence it comes to pass, that the rapid Aufidus carries away, together with the bank, such men as an abundance more copious than what is just delights. But he who desires only so much as is sufficient, neither drinks water fouled with the mud, nor loses his life in the waves.

But a great majority of mankind, misled by a wrong desire, cry, "No sum is enough; because you are esteemed in proportion to what you possess."
Please enjoy the literary adventure that is Horace! The works of Horace can be found in poetryintranslation.com, or the Perseus Catalog. Here are some gleanings from his writings:
Everyone Can Profit from Philosophy
Further Reading:
 Horace: Satires, Epistles and Ars Poetica (Loeb Classical Library, No. 194) (English and Latin Edition)
Some Epicurean Aspects of Horace's Upbringing in Satires 1.4, and Horace, Ofellus and Philodemus of Gadara in Sermones 2.2, by Sergio Yona
Learning the Epistolary Poem: Poems that serve as letters to the world, by Hannah Brooks-Motl